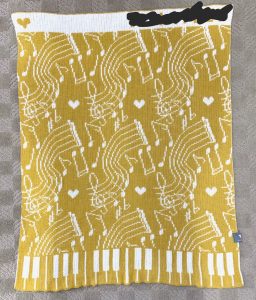 The Musical Blanket…sort of like musical chairs but much more fun (lol). This was a design for a baby blanket knit on the Passap E6000. My daughter (13) helped with the design. She knit the blanket for her teacher. I have blacked out the baby name at the top right of the blanket (on the photos). The file I am sharing has blank border rows there (no name of course). Knit with technique 187 with 1×1 back pushers AX both arrows as set up in the manual. Knit with one strand of 2/24 which finished as a thin fabric with good drape. It was 34″ by 48″ finished after washing. I have plans to knit this with cotton (Yeoman Brittany) and am thinking it should finish up around the same size after washing (I will edit this after I have knit one!.). Cotton is always nice for baby blankets.
My daughter chose the designs for the blanket. She found the Stitch World music staff design to use for the body of the blanket. This Stitch World design is in Designaknit DAK. (I did edit the pattern a bit for her and add hearts). The music staff design in DAK is reversed so I had to flip it. I also edited out some non essential/random stitches. (If you look at the design in the Stitch World book, it is correct. I am not sure why it is flipped the wrong way in DAK.) The piano key pattern was designed in Designaknit. I added the baby's last name on the top border. (The name is blacked out in the photos for privacy.)
We planned on having white for the background, but I wasn't paying attention and put the colors in the wrong feeders. It turned out great anyway. I did edit the .stp after knitting adding a horizontal line above the piano keys (which looks really nice).
I am sharing this design file in .stp (Designaknit) and .bmp (Wincrea) if you would like to knit one (link at end of post). This design was 176 stitches and 250 pattern rows (1000 locks passes on the lock row counter.). If you use a thin yarn like one strand of 2/24, you will get a small baby blanket. You could also knit with 2 strands of 2/24 and get a larger blanket baby blanket. If you want a large throw, use technique 186 with 2 strands of 2/24.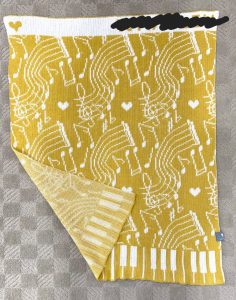 My daughter also made a bunch of tiny baby hats with commercial knit fabric. This hat pattern is a modified version of the free Patterns for Pirates Teeny Beanie . She used a serger to assemble the hats. It is much quicker and a more professional finish than a sewing machine.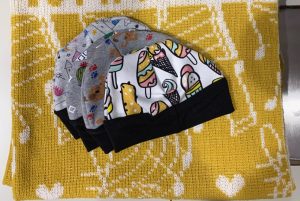 If you would like to knit this blanket, click here to access the Designaknit and Wincrea files.
Happy knitting! 🙂