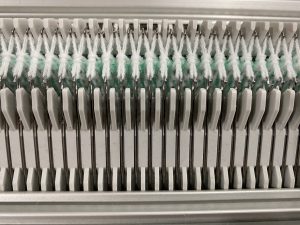 I often see knitters (online) asking how to cast off on the Passap when knitting double bed. I use a very easy cast off that leaves a nice edge. Read on for details….and see my video at the end of this post.
Simple Passap Cast Off:
For the cast off, I use the same yarn color as the cast on. After the last row of the stitch pattern, I start the cast off by knitting one row N/N right to left in one whole lock tension number looser/higher than main tension. (Example if you are at lock tension 4, you would go up to lock tension 5). I then transfer all back bed stitches to the front bed with the U100E (see my U100E blog post for details)..
Next, I break the yarn and move the locks back to the right using GX/GX without strippers and without yarn. (This is a "free pass" and no knitting). Put the main yarn color back in the eyelet and knit one row right to left N/N another whole tension number higher (if you were at lock tension 5, you would go to 6). This puts loops (not really stitches) on the back bed as seen in the photo at the top of this post.
Drop the front knitting bed down and cast off on along the front bed (ignoring the back bed loops). Start the cast off on the right and continue to the left. This is a latch tool cast off (loop through loop) on the front bed (see photos below). This cast off has great stretch which is very nice for tuck patterns like T186.
After you have latched off across the front bed, push up all the back needles and drop the loops off the back bed. Next, push up the front bed needles and drop all the stitches off. That is it. All done. 🙂
The lock tension on the cast off rows may be different depending on which technique you are knitting. I always go a whole number looser lock tension for technique 186 and tuck patterns. For other double bed techniques, it may be fine to just go 2 clicks looser or maybe 3. You may want to swatch this and see what works best for you.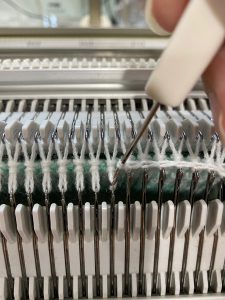 For visual learners, I have made a short video below showing the Passap cast off.