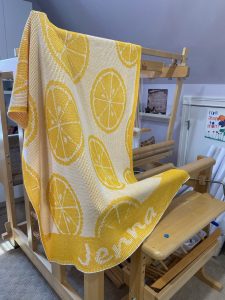 The Summer Slice machine knit blanket can be lemon, orange, or lime!! I chose to make an Orange Slice and Lemon Slice. I plan on making a Lime Slice too! My blankets were knit on a Passap E6000 knitting machine. You can knit this on any double bed machine, though it will be narrower on a different machine. I used technique 186 on the Passap which is a double bed tuck pattern. Technique 186 results in a very wide blanket when knit full bed.
The finished size is approximately 60″ wide by 71″ long (with 2 strands each color 2/24 yarn) which is a great size for an adult throw. This design has been popular with teenagers!
Cast on 88-0-88 for double bed. Both end needles are on the back bed. Knit 250 pattern rows, 1000 lock passes. I cast off using the method described on this post.
I am sharing the Wincrea .bmp and Designaknit .stp files for the Summer Slice machine knit blanket. There will be a blank border on the bottom. You can add a name there if you want to. 🙂
Click HERE to access the file download page.