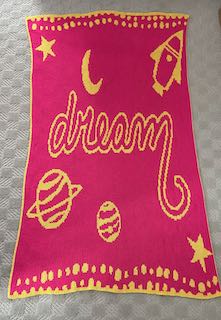 The Dream Space blanket is a design for a boy or girl. It is child size blanket. If you use a small font, you could add a name or initials at the top middle or lower left of the blanket. This blanket was knit on the Passap E6000 knitting machine, but it can be knit on any electronic machine with 176 needles. I knit this one in double bed jacquard.
Details: Cast on #3. Cast on 176 needles 88-0-88 double bed. Passap technique 187. Both end needles on front bed. Knit 1000 lock passes (250 pattern rows). You can use any yarn that works for you double bed. (For other brands electronic machines, follow the double bed jacquard set up in your machine manual.). I knit my blanket with 2 strands 2/24 (double strands of each color). The finished size after washing was 45″ wide by 69″ long.
Cast off: For the cast off, I used the same yarn color as the cast on. I cast off by knitting one row N/N right to left in one whole tension number looser/higher than main tension. I then transferred all back bed stitches to the front bed with the U100. Then moved the locks back to the right using GX/GX (no knitting). I picked up the main yarn color again and knit one row right to left N/N at another looser tension of 3 clicks looser/higher. This row puts loops (not really stitches) on the back bed. I then cast off on the front bed (ignoring the back bed loops). This is a latch tool cast off (loop through loop) on the front bed. This cast off is very loose and works great for the stretch needed on the tuck pattern.
I am sharing the files for Designaknit and Wincrea. Note to small shops: You may sell your finished blankets. Please credit Herman Hills Farm for the design.
Click here to link to the DAK .stp and Wincrea .bmp files