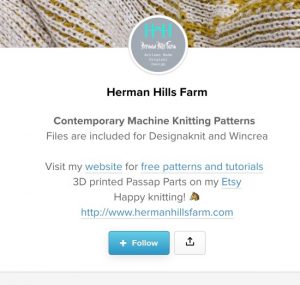 I have moved my machine knitting patterns to a new shop. Etsy does not support Designaknit files and Square Online (my current test shop) does not even email files. I have been manually emailing Etsy sale .stp files and all files for Square Online after each sale. It has just been a bit much to keep track of between the two shops.
Since the convenience of digital patterns is to have them emailed immediately upon checkout, I needed to find a different place to sell them. I just recently found Payhip. Payhip is simple and easy. Many knitters and sewing pattern designers use Payhip for their digital pattern sales. On Payhip, you check out with Paypal (or debit/credit card via Paypal) and the best part is: you have ALL of your files (.stp, .bmp, .pdf) immediately upon checking out. Please let me know if you have any questions.
Link to Payhip Pattern shop HERE
Be sure to follow my shop and hashtag your finished knits with #hermanhillsfarm Thank you! I have lots more patterns to add to the shop and hope to get them listed soon. 🙂
Another change is to have all the printed parts on Etsy and Ebay only. With recent changes for VAT compliance in 2021, I decided Etsy/Ebay will be best as they calculate and submit VAT fees for the seller. I have been directing my international sales to Etsy as I worked on figuring out VAT details, and I have figured out I want Etsy/Ebay to do it for me! I will have my Square Online shop up for a now, but the shop link is to Etsy on this website. I am hoping more information will be published about submitting VAT. For now, International sales go through Etsy/Ebay. Thanks for understanding.
You need to add a widget, row, or prebuilt layout before you'll see anything here. 🙂