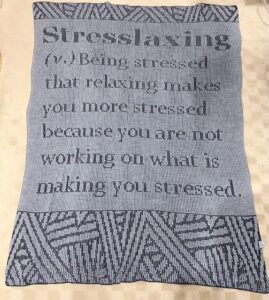 This was a custom request knit blanket. I thought it was an interesting knit. If you would like to knit one, I am sharing the .stp (Designaknit) and .bmp (Wincrea) files. (Please note: This blanket is a light-hearted view of stress. If you or someone you know is having serious issues dealing with stress it is best to seek help. In the US we have mentalhealth.gov for referral.
This blanket can be knit on any machine with 200 needles. I knit mine in double bed jacquard on a Passap E6000 T186. This is a large tuck throw with T186. If you want a smaller lap or cot size, knit the same file with T187. It will be smaller and the text will be more defined. This blanket can be knit on any electronic knitting machine with 200 needles. Japanese machines will knit a smaller blanket size. Cast on (#3 for Passap), T186, 88-0-88 total of 176 stitches double bed. Both end needles are on the back bed. 250 pattern rows and 1000 actual lock passes. This was knit with 2 strands 2/24 of each color tension 4.3 on both locks (Passap). Finished size 62″ wide by 74″ long knit on Passap with T186.
I am sharing the Designaknit and Wincrea files if you would like to knit your own blanket. (For personal and cottage/small business use). If you don't have software for downloading to your Passap, there are 2 free options. Wincrea and Journal 6. I have posts on both of these on my blog.
Link to files here The link will go to the folder with both files. You will have to open the folder and select the file you want to download. You may have to click on the 3 dots at top right of page to open download menu.