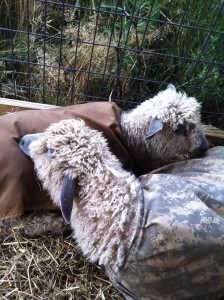 I was checking the sheep the other night and just happen to have my cell phone, so I snapped a couple of quick pictures.  This is Wibble (ewe) and Wobble (ram) a couple of the high percentage Wensleydale lambs we had this year by Grey Owl (UK sire).  Wobble is the one on the right sporting a grey camo coat (the coat was made by Rocky Sheep Suits).
Wobble had a bit of a slow start.  He was very weak at birth and had pneumonia.  The ewe had triplets, but the third one was too weak to thrive and passed away just minutes after birth.  The ewe was a maiden ewe and was not very "motherly" with the lambs.  They ended up being bottle lambs. Eventually, the lambs did bond with their mother but she was not too thrilled with them nursing!
It is just amazing to see how far along they have come since their difficult dystocia delivery.  They are so happy and healthy.