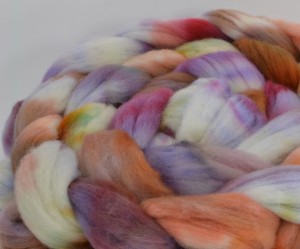 I am now stocking hand dyed Cormo top in my Etsy shop.  I will be adding more as I get time.  Stop by the shop and check out the colorways I have listed!
This top was processed at Zeillinger Wool Company.  It is super soft and fluffy.
The wool has been processed into a "worsted combed top". During the processing of the fiber, noils and short fibers are removed. The end product leaves you with a perfect parallel fiber. The advantage to a top is being able to spin faster than a regular roving and a much finer or thinner yarn.  (Worsted wool description provided by Zeilinger Wool Company).
All of my Cormo top is from my flock of ACSA registered Cormo sheep.