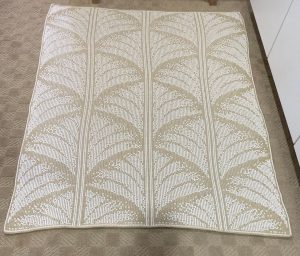 Another afghan done. This is not my design but from Michael Becker's Afghan book #4. I was looking for a south Florida type design. A friend of mine helped me find one. (Thank you Carol!!) Michael Becker's books are really nice if you don't have time to make up your own design. The books with Designaknit files come with a CD. He also has books with punchcard designs.
I knitted this on my Passap E6000 with technique 186. Technique 186 will sometimes show some of the back yarn colors through on the front (also known as "grin through") if knit on tension 5/5. Since this pattern was more of a texture type graphic, I knitted it on tension 4/4. The resulting fabric is a bit denser than a looser tension, but there is no "grin through" from the back. The design is crisp and clear. The back is a reverse of the front design.
I used the racking cast on #3. For the cast off, I used the same yarn color as the cast on. I cast off by knitting one row N/N right to left in one whole tension number looser/higher than main tension. I then transferred all back bed stitches to the front bed with the U100. Then moved the locks back to the right using GX/GX (no knitting). I picked up the main yarn color again and knit one row right to left N/N two numbers looser/higher than main knitting tension. This puts loops (not really stitches) on the back bed. I then cast off on the front bed (ignoring the back bed loops). This is a latch tool cast off (loop through loop) on the front bed. This cast off is very loose and works great for the stretch needed on the tuck pattern. Finished size 51″ wide by 73″ long.