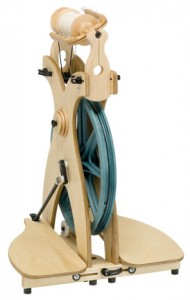 I heard rumors.  Yeah, there were quite a few stirring around about a year ago.  Rumors that Schacht was coming out with a portable wheel.  The rumors are true and Schacht is now in the final stages of production for the new Sidekick portable wheel.
I pre-ordered a Sidekick from Spin to Yarn.  I was contacted recently and told my wheel is scheduled to ship at the end of June.  I am so excited!  Schacht posted some videos of the Sidekick in action on their website.  It just looks like and awesome travel wheel.
Here are some details from the Schacht website:
The Sidekick is Schacht's newest spinning wheel. She's designed to fold easily, yet be a solid spinner. Here are some of the Sidekick's features:
Folds to 21 1/2″ h x 8 1/4″ w x 15″ d.
Integrated storage of bobbins, flyer, and whorls for transport.
Lightweight at 13 pounds.
13 3/4″ drive wheel allows for ratios from 4.25 to 15.25.
Long, comfortable treadles.
Uses the same bobbins, whorls, and flyer as the Schacht Matchless and Ladybug wheels.
The Sidekick can be purchased without the bobbin-flyer assembly.
25″ orifice height for comfortable spinning.
Employs Scotch tension with precise control knob.
The drive wheel spins on ball bearings. The flyer turns on self-aligning bearings.
Drive band tension adjuster allows for all whorls to be used with one drive band.
The Sidekick comes with 3 travel bobbins, fast and medium whorls, threading hook, and adjustable carrying strap.
Also available: The Sidekick Bulky Plyer Flyer Package can be added at any time.
So really, what else could a spinner ask for in a travel wheel?  Looks like they have covered just about everything!  I will be posting a review after I receive my wheel!!
Here are the specs:
WHORL

RATIOS

slow

4.25:1 and 5.25:1

medium

6.25:1 and 7.5:1

fast

9:1 and 11:1

high

12.5:1 and 15.25:1
Dimensions
| | | |
| --- | --- | --- |
| SIDEKICK SPINNING WHEEL – OPEN | 27 1/4″ h × 18″ w × 15″ d | 13 lb |
| SIDEKICK SPINNING WHEEL – FOLDED | 21 1/2″ h x 8 1/4″ w x 15″ d | |
| ORIFICE HEIGHT | 25″ | |
| ORIFICE DIAMETER | 3/8″ | |
| DRIVE WHEEL DIAMETER | 13.25″ | |
| TRAVEL BOBBIN | 3″ × 4 1/2″ | 2.8 oz |
| WOOD BOBBIN | 3″ × 4 1/2″ | 3 1/2 oz |
| THREADING HOOK | | 1/2 oz |