I carded up on of my textured art batts the other day.  The batt was full of Merino, Bluefaced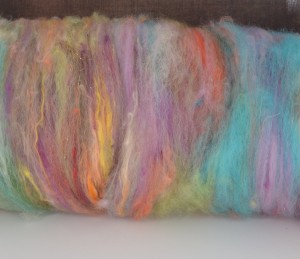 Leicester, lots of mulberry silk, Wensleydale locks (from my sheepies!), Teeswater lamb locks, bamboo rayon, and Angelina.  This batt is soooo next to skin soft and smooshy.  Batts don't sit around very long around here.  🙂  I quickly pulled a strip off the batt and joined onto the leader of my Majacraft Rose.
I spun, letting the yarn become what it wanted. The yarn spun up very quickly and before I knew it the batt was gone and the bobbin was full.  I love to spin singles, so I knew this would be another single which would be so nice and textured, it would stand on it own and not need plying.  Textured singles is what I love spinning!