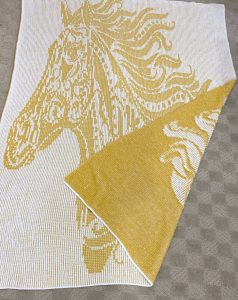 I knit a few of these horse blankets for friends. It was knit on the Passap E6000 with technique 186 which is a tuck double bed 2 color technique. There is no text so the blanket is reversible. The finished size after washing was 64″ x 73."
The grey and navy blanket was the first one I knit (see photos below). I noticed the muzzle seemed a bit long, so I reshaped and deleted stitches until I got it the way I liked it. I ended up removing rows and modifying a large part of the stitches on the inner design also for more definition. The mustard and white blanket (shown above) is the final design after modifications.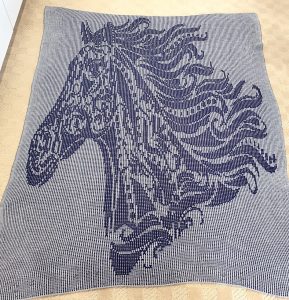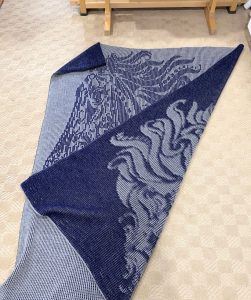 The graphic I used for this blanket is from Shutterstock, so it is not one I can share… You can sign up for a free trial and download for 10 graphics free for the first month.