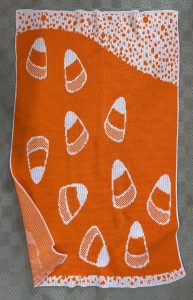 I designed the Candy Corn blanket a several months ago. I figured I would wait until fall to knit it out. Candy corn and the fall season seem to go hand in hand. I drew the design by hand and then used Designaknit to convert it into a knitting pattern. I am sharing my digital pattern files (Designaknit .stp and Wincrea .bmp) for free if you would like to knit one. If you do decide to sell finished blankets, please acknowledge "Herman Hills Farm" as the designer.
This blanket is knit in 2 color double bed jacquard. Needles 88-0-88 on the bed. It is 1000 lock passes/250 pattern rows. It can be knit on any electronic double bed machine with 200 needles. I knit mine on my Passap E6000 with tech 188. If you are using a Passap E6000 knitting machine, tech 187 or 188 work great for a lap and child size. Use tech 186 for a larger throw size. I used 2/24 yarn double strand for each color. Click HERE to access the Designaknit .stp and Wincrea .bmp files.
The fine print/copywrite: Do not share or sell digital files. Do not post any digital files from this website to any other location where they can be downloaded by others. Free files can be sold as 500 finished knit items per year- any more than that and you need to contact me for a commercial license.