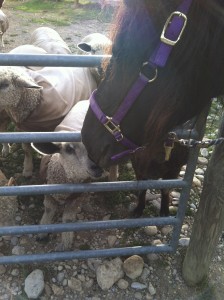 We have been involved with riding, training, and breeding horses for over 30 years and began focusing on the Friesian breed in the mid 90's.  We are no longer breeding to sell.  Our main focus with our Friesian and other horses is combined driving, dressage, and trail riding.
Why Friesians?
Many people ask why we choose the Friesian breed.  Friesians excel in both dressage and driving.  These two attributes make the Friesian very desirable breed in the horse world.  Add to that the excellent temperament and personality, high intelligence, and beauty of the Friesian and you have an excellent equine partner.
The Friesian Horse
The Friesian horse is unique breed of horse. It developed from a very old breed in Europe. The Friesian horse is the native horse from Holland, The Netherlands. For more information about the Friesian horse go to the North American Friesian Horse Association or the FPS Studbook.
Other Horses
We also have several other breeds of horses including: Peruvian Paso, Paso Fino, Clydesdale, and Haflinger.