Ok, so there is a bit of play on words for the title of this post, but honestly I wonder sometimes.  I love to spin singles.  LOOK at all the yardage you get from singles.  Other times, I think, "Well, the yarn may be more interesting if it is plied…"  The majority of the time I try to decide what the end us of the yarn will be.  If it is going to be for weaving and used as weft yarn, I will keep the singles.  If I am going to be knitting it, I will ply it.
I knit a lot of winter accessories.  I like to use bulky yarn to knit quickly.  Bulky yarn also makes a thick wooly winter item.  I am outside 365 days a year in all weather tending to the animals and I don't like to be cold!  Thank God for Charhart Coveralls.  They are my winter weather favorite.  Ok, enough talk about winter.  It is in the 80's and super nice outside!  🙂
I spun up one of my textured farm wool batts.  The fiber in the batt was Cormo, Shetalnd lamb, Wensleydale locks, mulberry silk, and a smidge of Angelina.  Here is a photo of my textured singles.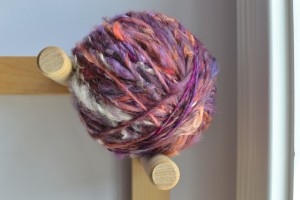 The singles looked great, but I decided they would knit up as a nice foofy hat.  The singles were Navajo plied.  This yarn will knit into a quick winter hat!  Oh, and I guess this ply is exempt from the title of the post.  Navajo ply is a 3 ply!