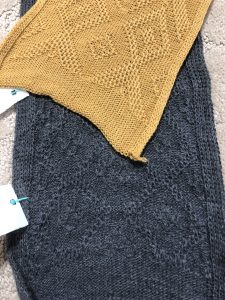 I knit the samples above a few months ago.  I couldn't decide whether to write up a tutorial or not….  I rarely post tutorials on my blog.  I have always been inspired by my friend Carol's blog.  She has a wonderful blog for Passap knitters with lots of tips and tutorials.  I thought maybe I should take some time to share a little bit on my blog too…
The photo above shows some samples I had knit a while back on my Passap E6000 (grey sample) and Silver Reed SK840 (mustard colored sample).  I knit lots of scarves which are mostly all knit on the double bed.  I don't like how the edges of single bed scarves roll.
Over the winter, I thought I would be nice to have a single bed fabric for a scarf because it would be a lighter fabric.  There is the edge roll issue with single bed fabric.  But what if I could rib the edges?….  I have a couple of double bed books which reference the long stitch (also called half Milano) technique but most instances are as a backing.  I found a blog that showed the long stitch edge with stockinette in the middle.  I did not want plain stockinette for the center knitting but a tuck stitch or slip stitch design.  Since tuck stitch seems to curl a bit, the edges will be tamed with the long stitch edge.  Once I started knitting these samples, I realized there are many possibilities for the center design…
You can follow the directions in the blog I linked if you need detailed set up directions.  Basically, you are just casting on in full needle rib.  After the ribber circular rows, knit as much "end" border as you want.  Then transfer the middle stitches (which will be your patterned knitting) to your main bed.  (Main bed is: back bed Japanese, front bed Passap).  Leave as many stitches on the ribber as you want for the long stitch edge.  Passap use black strippers.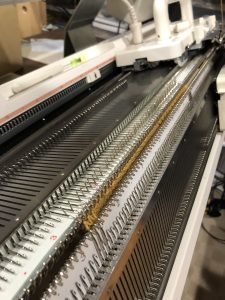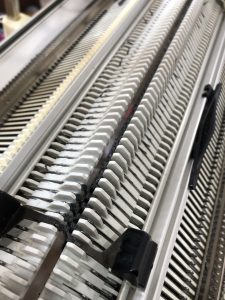 In the photo below (ignore the dark spots caused from my iron during steaming!), the sample shows an edge with 3 stitches and 4 stitches.  The scissors in the photo on the right show the line between the 3 stitch edge and 4 stitch.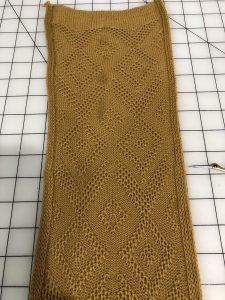 I made a basic pattern in Designaknit (DAK) for my SK840 and Passap E6000.  I used a built in tuck pattern from DAK.  Remember to leave plain rows in your stitch pattern for the ribbed edges.  I have found that 5 stitches works good for a basic scarf.  The photo below shows 3 plain stitches on the side for the SK840.  For the E6000 you make your stitch pattern in plain black and white squares (no symbols), leave your edges stitches plain for however many stitches you want on the edge. When using the Passap and DAK you must "lie" to DAK.  On the DAK download screen, you have to enter a double bed jacquard technique (example 183).  Click download.  Once it is downloaded to the machine, you will enter your technique you will really be using.  I used T130.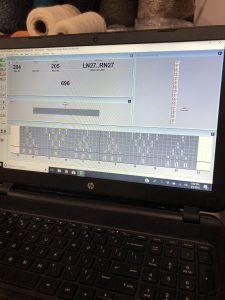 When knitting on the E6000 remember you will have to slip one direction on the back bed.  You only want the back bed to knit every other row.  I messed around with different lock settings and I think there is a lot more to discover with this.  I used CX on the back lock.  I am going to knit up some scarves and try some other locks settings and see what happens.  😉
I saw a  wrap on Purl Soho which I believe is this same technique (used on the edges- longstitch).  So you can knit narrow or wide fabric with this long stitch border.