The last thing you need in the summer is a blanket, right?  Well, this was a special little blanket I knit for my nephew.  Knit on Passap E6000 4 color double jacquard and designed with DesignaKnit (DAK) software.  I have had quite a few people ask me how to design something similar using DAK.  In DAK, I open a blank stitch pattern in Stitch Designer.  I resize the pattern to whatever size (stitches and rows) I am wanting to make.  I then make my design on the blank canvas or import elements via Graphic Studio (DAK).  I know it is said DAK is very hard to use.  If you print out the instruction manual and work out using the tools, it is possible to teach yourself how to use it.  It just takes time and practice.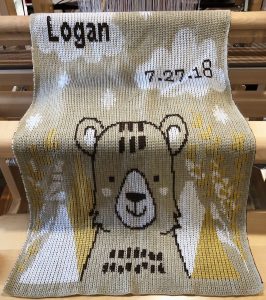 I bought some bright lights for my AVL loom.  They are a long strip of LED lights.  The strip of lights is sticky one one side.  You stick them on and cut off the excess.  They have a dimming switch which is really nice for times I don't need the lights to be extremely bright.  I took the photo below with all the room lights off except the loom lights.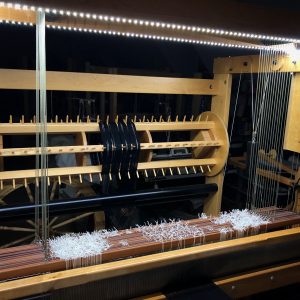 It has been quite a hot summer which means getting up even earlier to ride.  This is Atarah, my Paso Fino mare.  She has only been on trails for the last couple of months (former show horse) and she is doing quite well.