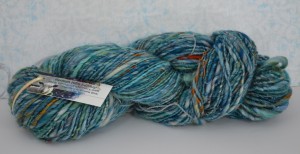 I made a bunch of art batts and am spinning them into a worsted/chunky weight singles yarn.  The fibers in the batts are hand dyed merino, bamboo, alpaca, Wensleydale locks, firestar, mulberry silk, and Angelina.  I have been spinning them on my Schacht Matchless with my bulky flyer.
I finally have the bulky flyer figured out.  I have only had my Matchless for a couple of months.  I ordered the bulky flyer with the wheel.  I did not even have the wheel figured out before putting the bulky flyer on it.  I love the Matchless.  It is an awesome wheel.  I can spin anything on it with ease.  I did have to a bit of fiddling around with it at first.  It is quite a bit different from my other wheels.
I plan on using the hand spun to make another scarf on my Flip rigid heddle loom.  The cold weather is here.  I am outside most of the time, so scarves (and hats!) are on the top of my list of items to make.