I bought an Ashford Sample It rigid heddle loom from the Woolery to use for small projects and samples.  I also thought it would be nice to have a small loom to take with me on trips.  I love this loom!  It is small enough to fit on my lap when weaving.
The loom has a weaving width of 8 inches making it perfect for scarves, small projects, and color sampling.  The outer dimensions are about 18.5 x 11.5.  It is small enough to fit in a tote bag.  It comes with a couple of stick shuttle and one reed/heddle.  I prefer to use boat shuttles for most projects.  The mini Schacht boat shuttle is the perfect size for this loom.
I bought the Weaver's Idea Book awhile back and plan on using my Sample It loom for some of the pick-up techniques in the book.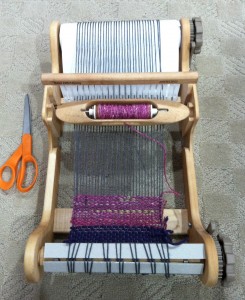 My first project was a narrow Saori style scarf.  I used Cashsoft for warp and Noro for weft.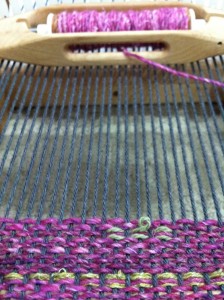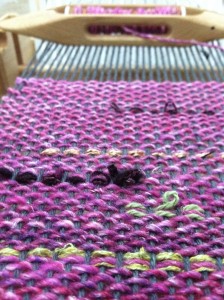 Here are a few photos of the finished scarf.