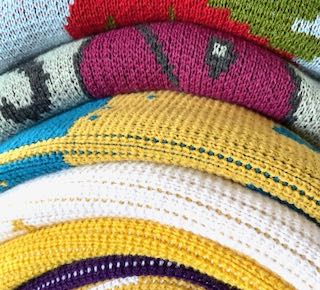 Lots of knitting and knitting here in the studio! I have been busy knitting since before the holidays and it hasn't slowed down much at all. There are several patterns I have been working on. I have a child blanket (free pattern) almost ready. Hopefully, I will be posting it on my blog this weekend.
Lately, a majority of my time has been spent working on my online shop. I have had a shop on Etsy for over 10 years. I decided it was time to move off of Etsy and have a shop on my website. Soon, when you click "shop" on my website, it will go to the new shop and not Etsy.
The new shop will be through Square (SquareUp/SquareOnline) which is a well-known payment processor. If you have any problems on the shop, please let me know. Be sure to check spam/junk mail folders for order confirmation and shipping emails.
I will have my digital patterns listed on the new shop. Digital patterns do not automatically send after checkout is completed. I will manually send you an email with the digital files within 48 hours of your purchase. Be sure to check spam/junk mail folders!
Square doesn't really have a great way of calculating international shipping. The standard package weight is set at over 8 ounces. If you are only buying a few small items, the total weight might be less than 8 ounces. Please contact me if you want an exact shipping quote (for international shipping)! I can manually calculate shipping and send you an invoice too if prefer. I do refund shipping when it is calculated incorrectly (whether you contact me or not). Please remember, it is the weight of the items and the box/packaging which may bring the total weight over 8 ounces. Sadly, international shipping is high. Even an empty package/envelope is $15… Packages over 8 ounces jump to over $25. NOTE: all international orders will be responsible for VAT and duty fees.
Back to knitting. I need to get that pattern done!
Happy knitting!!