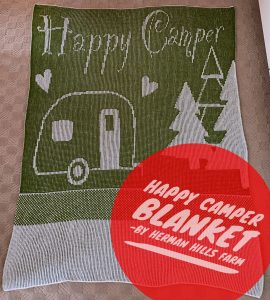 We often camp with our horses. I designed a "camping theme" blanket for our horse trailer camper. This Passap machine knitted blanket has been very popular with my "camping" clients. I have listed this pattern in my Etsy shop for anyone who wants to knit some blankets for "happy campers!" This is a 2 color design. The blanket has room on the bottom border to add names or initials. There is room for 2 lines of text if needed. My finished blanket was 64″ wide and 84″ long and knit in one piece on a Passap. (This blanket can be knit on any electronic knitting machine with 200 needles).
What's Included
Your download will include: stp file (Designaknit), .bmp file (Wincrea), pdf file with instructions.
You must have Designaknit or Wincrea to use the files.
The pattern includes detailed directions for Passap E6000 (technique, cast on, cast off). This pattern can be knit on any double bed electronic knitting machine that has 200 needles. Other brand machines will use the .stp file and must have Designaknit software.
This pattern assumes you know how to download files to your knitting machine and you know how to use your machine. Here is a direct link to the Happy Camper Blanket.