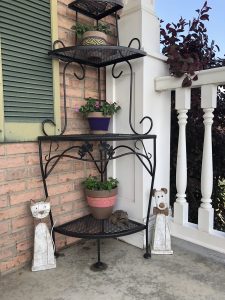 OK, from reading the title of this post you may have been expecting something really amazing... but no...sorry to disappoint you...  LOL!  I found a pattern on Knit Picks website for flower pot cozies.  I didn't like their colorwork pattern but thought it would be a great way to knit swatches and have a use for them.  I knit my cozies on my Silver Reed 840 standard gauge and used Designaknit for the patterning.  In Designaknit, I opened a new pattern of 30 stitches and 100 rows.  For the fair isle designs--I imported a vertical border and centered it in the middle of the pattern. (edit/import/vertical border).  The purple cozy was just knit in a tuck stitch pattern (not centered).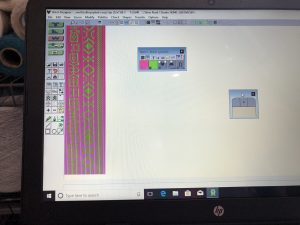 The cozy pattern is simple:
Cast on 15-0-15.  I used fingering weight yarn.  (You can use thicker yarn, but knit fewer rows of patterning.)
Knit 7 rows.
Place eyelets approximately every 4th stitch or so.
Knit 4 rows.
Set your machine up for patterning (fair isle, tuck, slip whatever you decide) and knit 100 rows.  (This is what I used for the small and medium terra cotta pots--adjust as needed for your pots.)
Knit 7 rows of stockinette.
Place eyelets approximately every 4th stitch or so.
Knit 4 rows.
Cast off.
Finish with heavy steam.  (I knit with wool yarn.)
Wrap cozy around pot and lace heavy cotton yarn through the eyelets (like lacing a shoe).  Adjust to fit pot.